Here we are again at the start of our 18th Uglybustards AFL Footy Tipping Comp in 2017.
Following tradition we pay our respects to the
2016 Champ Mik Barley aka The Remonstrator
and the coveted Uglybustards virtual Premiership Cup. Mik was kind enough to share a couple of pics of his winning guernsey too.
2016 winner, Mik Barley, aka The Remonstrator
Yes indeed, we're back again in
2017
for our eighteenth year of
AFL footy tipping
. The format will follow last year's;
The Joker Ladder with full card bonus, five joker rounds and away teams on missed tips is on again with the Prize Pool & Ugly Bustards merchandise spread among the top 3 paid-up tipsters.
Huru Sports are providing another AFL guernsey this year for the top paid-up Joker Ladder tipster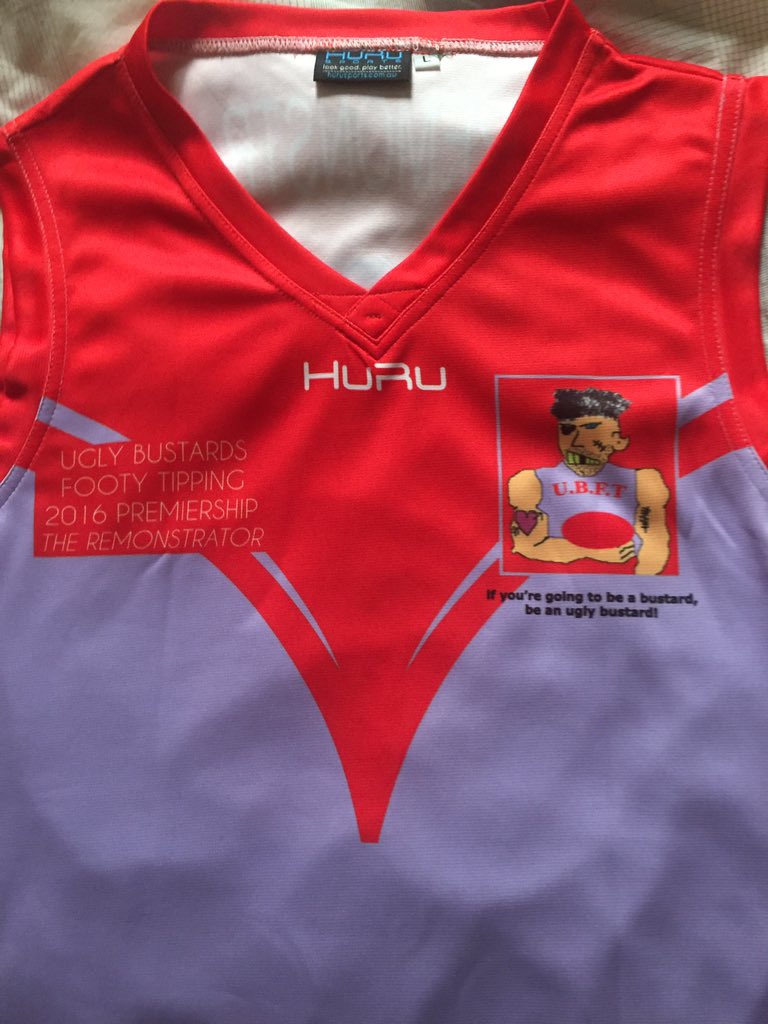 2016 winning guernsey - The Remonstrator
The Standard Ladder which was in use from 2000 to 2013 also receives a prize, which goes to the top paid-up tipster outside the top 3 in the Joker Ladder
Margin Ladder, the paid-up tipster with the smallest cumulative margin at the end of the season will win an Uglybustards merchandise prize.
Weekly Prize jackpot of $5 continues for paid-up tipsters (depending on prize pool entries).
Prize Pool entry deadline is not until 30th April and remains just $20 as the mining boom is over. Email uglybustard@uglybustards.com for details on how to enter.
While the entry fee is again just $20 (a crayfish), for an extra $10 you receive an Uglybustards Stubby Holder and you'll be supporting diabetes research via a $5 donation to the Juvenile Diabetes Research Foundation.
You're welcome to play for glory only without a Prize Pool entry, the more the merrier
Existing tipsters and newbies alike click the join now button below to enter Uglybustards Footy Tipping in 2017.
And remember to get your tips in before
7:20pm Thursday night 23rd of March
for the season opener
Carlton
Vs
Richmond
at the 'G. This is the margin game for the round, always good to get off to a decent start so tread carefully...and I'll see you out on the ground.
Go youuuuuuuuse Ugly Bustaaaaaaaaaaaaaaaaaaaaaaaaaaaards!!!!!!!!!!!!!!!!!!!!!